Our products are versatile and practical. For any room, style or aesthetic.

The bedroom is undoubtedly a place to rest, so the atmosphere must be warm and relaxing, whether you are staying in a hotel or in the privacy of your own home.
On the one hand, the new expectations of the traveller accentuate the need to create welcoming spaces that make them feel like being at home, whether for short or long stays, business trips or personal leisure.
These must be intimate, yet versatile, as we have discovered in recent months, as each corner can be used for a different purpose.
The bedrooms have been adapted with practical and very personal areas: pleasant reading corners, small dressing tables for personal care, comfortable desks for remote work or benches at the foot of the bed to offer extra storage.
The furnishing of these areas, in addition to organising the spaces with functional solutions, has a lot to contribute from an aesthetic point of view. We want to show you how to improve every little corner with this selection of projects that are really inspirational.
Armchairs are ideal for creating small reading or relaxation corners. At Koncept Hotel Josefine the rooms are as functional as they are welcoming thanks to the use of saturated colours on walls and wooden surfaces. The colour accents are the textiles of the armchairs: for the larger rooms the Tonella armchair, with its wide, relaxed seating, is dressed in red. For the smaller rooms, the Mini Tortuga armchair stands out with its yellow fabric. A project by Rosa Badenes.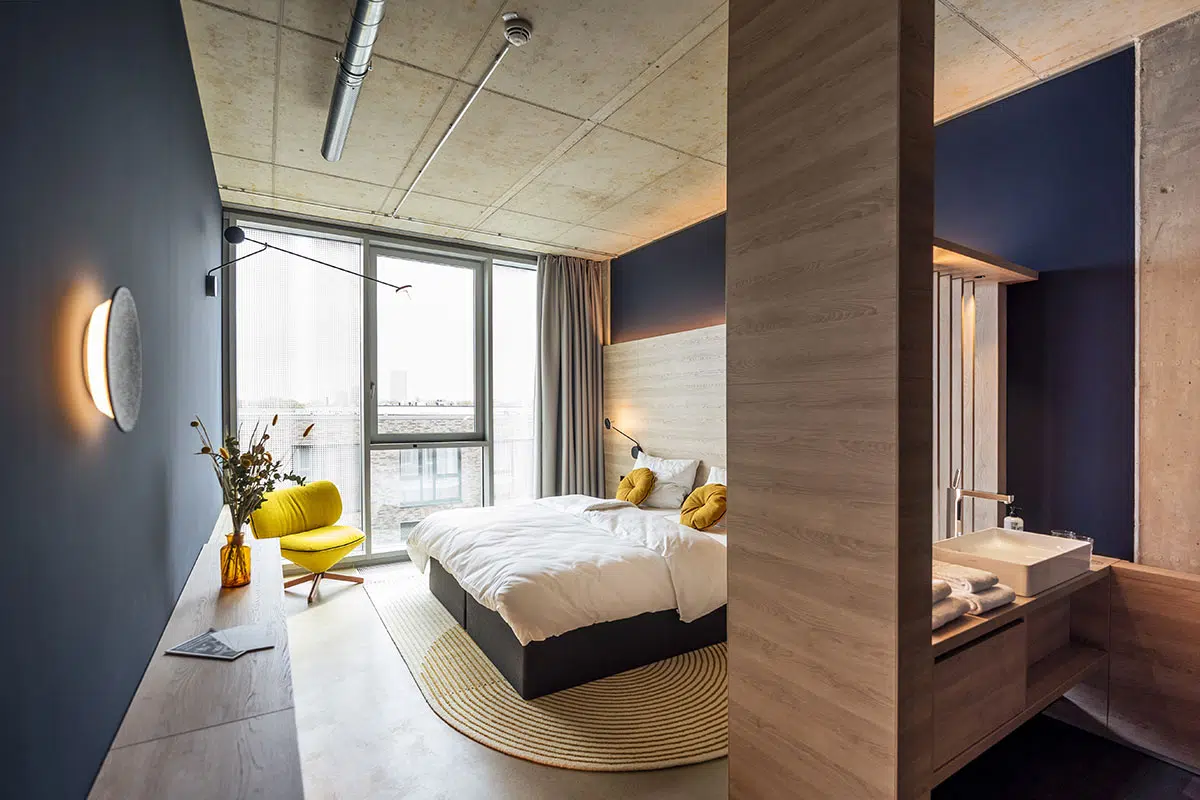 Kimpton Vividora boutique hotel style is contemporary and reflects the soul of Barcelona. The selected furniture bring comfort and elegance to the different rooms to create a cosy urban space.
Hotel rooms should integrate values such as calm and comfort in the most intimate spaces. But also create a small place from which to work. Collar chairs are a design that balances aesthetics, innovation and function. And they are very comfortable. A project by El Equipo Creativo. Photographs by Adrià Goula.
In this proposal for Casa Decor, noble and natural finishes, neutral tones, warm textures and rounded shapes predominate. The suites can incorporate small areas for personal care, accompanied by a mirror and chair. This is a sophisticated and glamorous proposal in which Magnum once again provides aesthetics and comfort both in its chair version with upholstered base and with the coquettish armchair. Project by Estudio Alegría.
But this model is not only ideal for vanity areas. It can also accompany compact desks like the one we can see in the corner of DestinationBCN tourist apartment. The Magnum chair with its curved shape and the colour of the upholstery creates a balanced contrast with the rest of the room in neutral tones. A project by Anne Nijstad. Photography by Alfred Vila.
Also, small "hotel offices" can be included in hotels for teleworking from the room, as can be seen at the Hotel Bienvenir. Chairs satisfy functional requirements and contribute to the final style of the environment. On this occasion, the Magnum chair with metal legs has been chosen. A project by Wanna. Photograph by Pablo Caulin.
Why not a Diwan at the foot of the bed? Although it would not appear, these pieces offer an extra storage point where you can leave pillows or small blankets. In addition, from an aesthetic point of view, they provide texture in neutral environments with the fabrics and colours chosen. A project by Studio ILEDA. Photographs by Egor Piaskovsky.
Mullit is another interesting option as we can see in this small apartment that invites for relaxation and pampering. The chosen fabric makes it a point of contrast to the soft palette of pastel tones. A Nordesign project.
As we can see, even though they are the most private area, the bedrooms take on a leading role to become intimate spaces in which to rest and relax.