Being a creative company, we are very aware that with our decisions we can design a healthier world.
As we are about to turn 50, Sancal has not only grown as a company through Design Thinking as an agent of change. Our long experience shows us the need to be responsible in the here and now while remaining committed to the future. That is why we prioritise quality, durability and a design that goes beyond fashion.
Through different practises that are certified under ISO 14001, we try to minimise the environmental impact of our industrial process. For example, we take advantage of the sunny region we live in to create our own energy. One of our most recent achievements is the Indoor Advantage Gold certification, which means that our products are low VOC emissions.
For us, it is important to be surrounded by partners who share the same values and consider the environment as a priority when innovating. We select only high-quality raw materials. We use wood from renewable forests, environmentally friendly high resilience foam certified by Oeko-tex. And we are also adding textiles that are 100% recyclable.
Close cooperation with the textile industry is definitely necessary in our sector to ensure sustainable and competitive solutions. The Danish textile company Gabriel is a strategic partner, developing fabrics that save water, energy and chemicals.
Climate change demands greater attention to processes that minimise the use of resources and raw materials. Fabrics such as Blend, Cyber and Mica are made from 100% polyester from post-consumer waste. In other words, fabrics made from used plastic bottles. These new upholstery options are in addition to Cura, a fabric that we have already presented (you can see it here).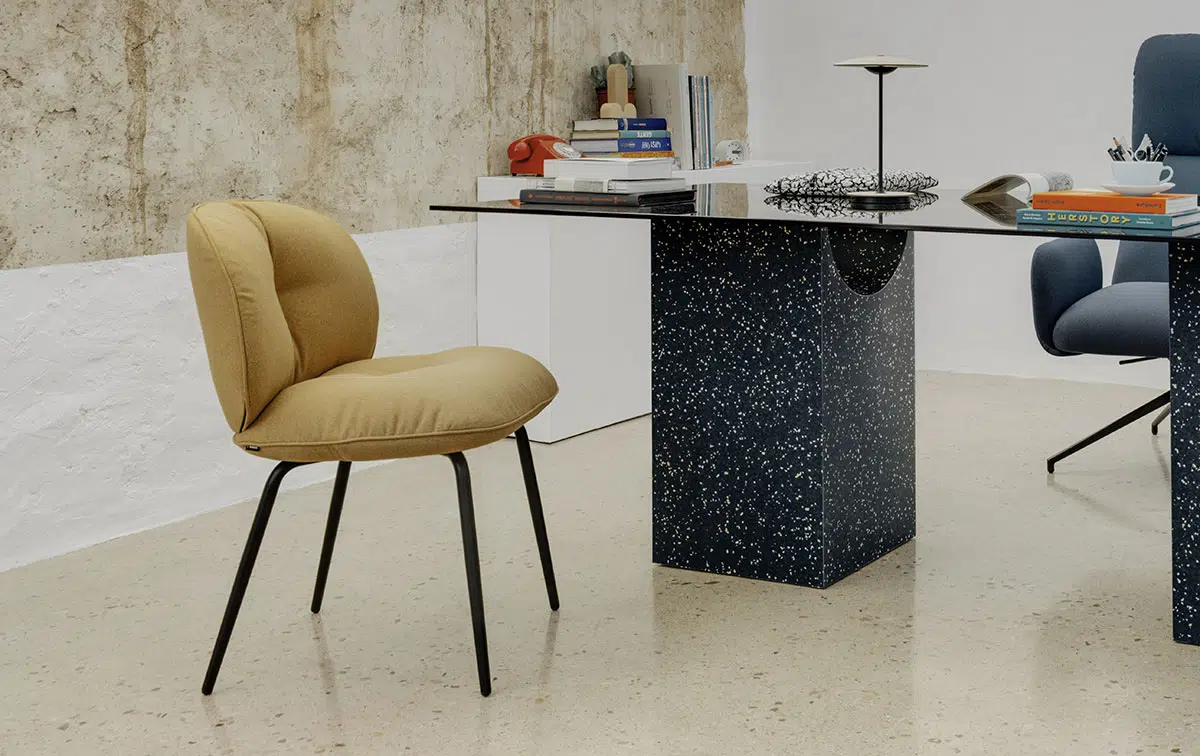 The production processes are optimised to reduce CO2 emissions, as less energy and water are required when manufacturing conventional polyester, recycled or not. In the case of Cyber and Blend, dyes are added directly to the liquid polymer solution before the fibres are spun into yarn, cutting down the use of water and chemicals to an absolute minimum, ensuring that the volume of wastewater that need treatment before being returned to nature is significantly reduced. In addition, these fabrics can be recycled after use, one of the principles of the circular economy.
Cyber is distinguished by a combination of multi-coloured yarns for a dynamic, playful expression and a textural depth. The palette includes 27 options to dress sofas, armchairs and chairs. It offers a soft tactility and a natural fibre look.
Nap is a sofa but also a bed. Its dual function makes this model a very interesting piece for hotel rooms, so it is recommended to use technical textiles, but also warm and homely-looking ones, such as Cyber.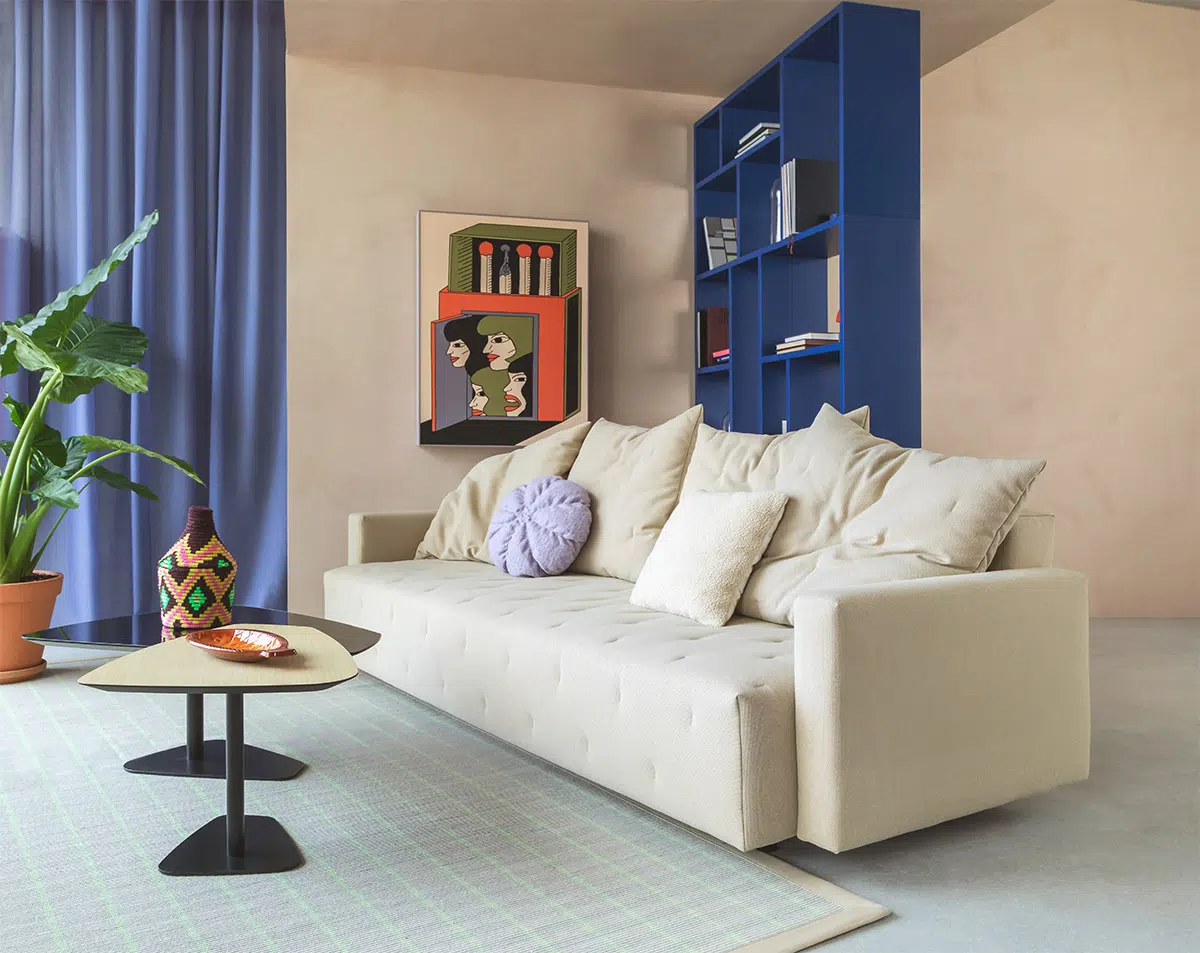 Blend's design stands out with its visibly irregular structure and subtle mottled details for a more classic and sober palette that includes 24 samples. It offers a matt, feel, a slightly ruffled surface that is soft to the touch.
Remnant soft seating family is elegant and classy, making it easy to be found in waiting areas. Blend fabric emphasises its timeless style and gives it a very cosy touch.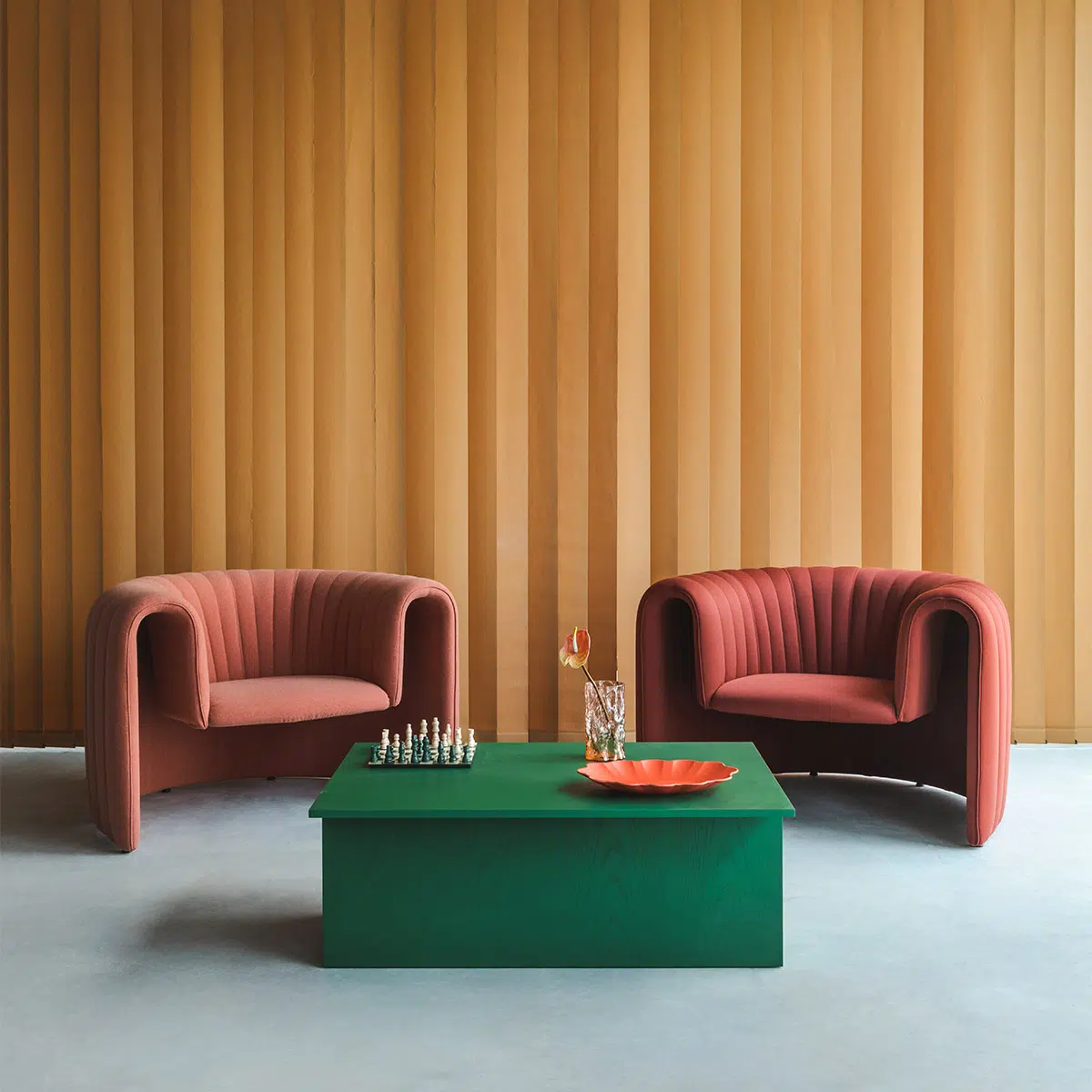 Mica reinvents the classic crepe texture for contemporary use. A two-tone fabric with a discreet, yet expressive melange effect. It is an exclusive, refined textile with an unrivalled colour palette.
Why not adding a sophisticated twist to a piece as playful as Loop? Mica is a contemporary crepe, sophisticated in its texture and fresh in its pattern, inspired by a starry sky.
These technical fabrics are ideal for upholstering pieces that are subject to intensive use, such as offices, waiting areas or other workspaces. However, their warm and cosy qualities extend their functionality and expressiveness, so much in demand in today's projects.
What else do you need to know?
These fabrics carry the EU Ecolabel and are certified in accordance with STANDARD 100 by OEKO-TEX. In addition, they are highly resistant to abrasion, pilling, fire and light. For more information consult their respective technical data sheets. (Blend, Cura, Cyber y Mica).
Both Sancal and Gabriel reject the notion of "fast furniture" filling up landfill sites.  Gabriel's products are designed to pass the test of time both in terms of their styling and durability, backed by industry leading 10year wear through guarantee
In our recently opened showroom you will be able to see all these products. Contact your Area Manager or Area Agent to visit La Fábrica, in our HQ.