Next Stop chair dressed in red Zero fabric for its presentation in Copenhagen.
The textile designer Marie-Louise Rosholm presented the innovative Zero fabric, developed exclusively to dress Luca Nichetto's Next Stop soft seating, during the 3 Days of Design in the Danish capital.
Sancal has participated in "The Textile Piece of Furniture", an exhibition of furniture pieces in which the fabric takes the leading role, visually and conceptually, curated by Anne Fabricius Møller. The chosen venue is Udstillingssted for Tekstil, a gallery specialised in showing the value of fabrics as an aesthetic and functional element. An incomparable setting to present the seating program that the Italian has designed for Sancal.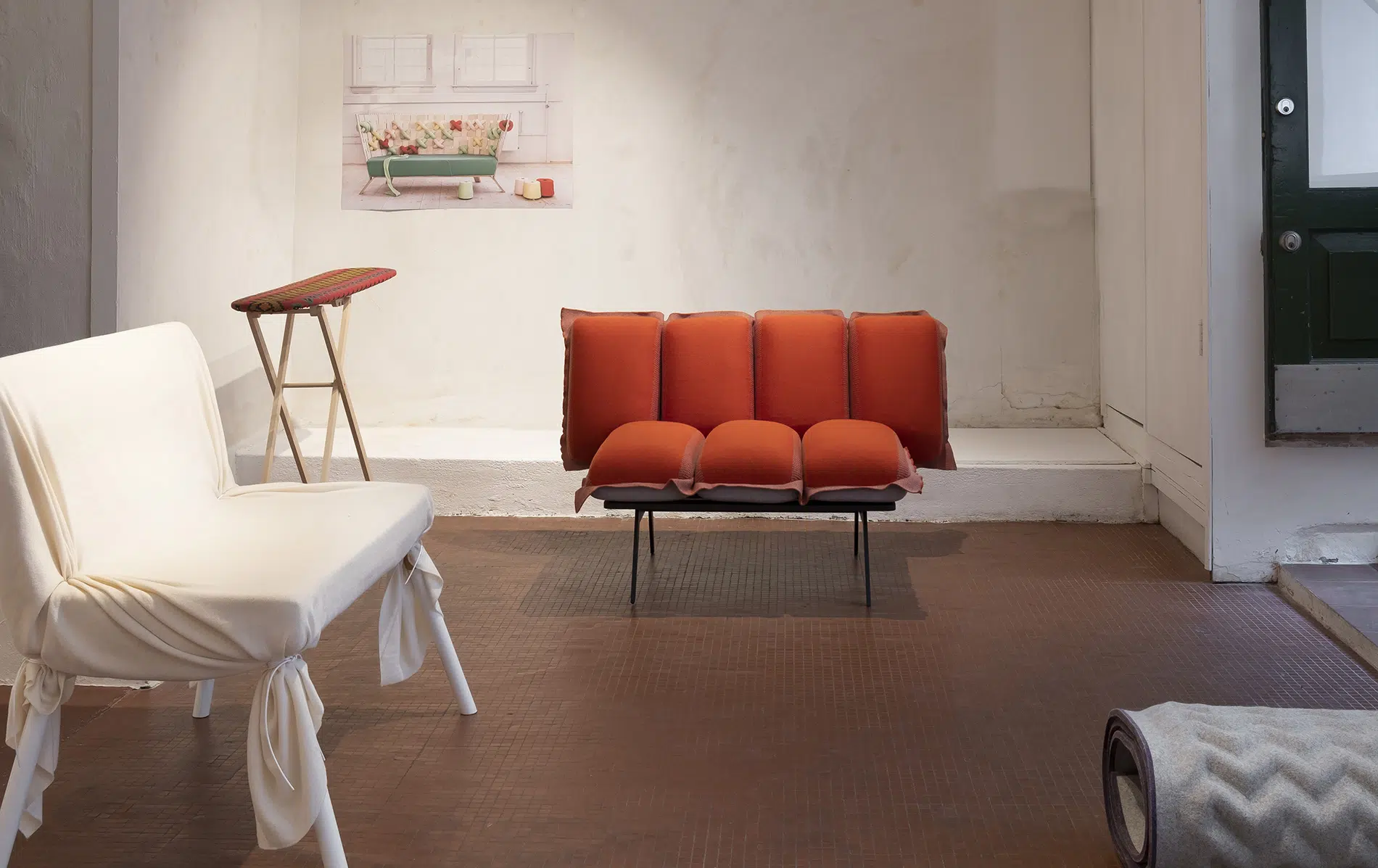 In addition, Marie-Louise and Luca had a lively talk about the complex process of developing this revolutionary upholstery concept. The designer highlighted the flange of the perimeter of the covers as an intentional aesthetic element, which makes it more evident its similarity to a "fully-fashioned sweater" knitted on a loom.
They also made special mention of the bi-colour combinations, a strong visual effect that highlights the whole industrial and technological process behind this project. Each of these 5 combinations exhibits a pure colour on each side and a mixture of tones in all the intersections between the pads.
Without any waste, this knitted textile comes from the loom in one piece with no seams, ready to insert the sofa's cushions. Due to this innovative process Zero represents a sustainable solution as the new textile generates virtually zero waste.
Zero's composition is 90% wool and 10% polyamide to provide the flexibility required. Technically it meets contract market grade martindale, flame-retardancy and peeling norms.
Do you want to know more about this fabric? Watch this video!
The exhibition will be open to the public until 16 October.
Where? Udstillingssted for Tekstil. Møntergade 6, 1116, Copenhague.