Nudo & Tea, a perfect couple to create a personal corner.
Remote work is a reality and the home office a must in many homes. But how to create a working yet homely environment in the same room? That is, how to combine functionality and beauty?
Although many homes do not have free rooms to create a small office isolated from the distractions of the home, especially when there are children, it is possible to integrate an independent and functional corner in a small area of ​​the house. A home office can be placed in the master bedroom, living room or kitchen, without breaking the aesthetics of the environment.
In these cases, placing the desk facing the wall helps to maximize the space of the shared room and define a compact work area. In addition to good lighting, the furniture must be as practical as it is versatile. Read on to discover our home office proposals.
The size of the home office desk will depend on the space available and its colour scheme. The Nudo desk is an example of a versatile piece. Its natural finish reveals the rich oak veneer, but if that doesn't do the job there are another 22 stains to choose from. Although light colours and natural materials are desirable as they convey calm and facilitate concentration, the choice of colour is up to you. Find out all the finishes for Nudo here.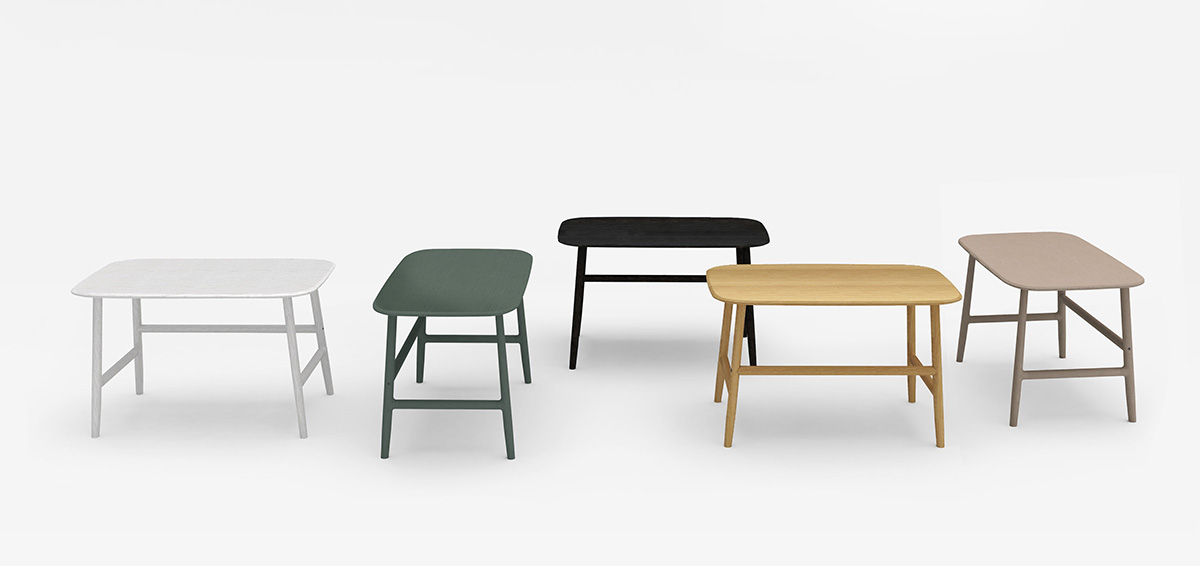 Height-adjustable and wheeled chairs are ideal because they offer added flexibility. Tea, in addition to meeting the requirements of operational chairs, can be dressed in a wide range of selected fabrics. The chairs incorporate hexagonal quilting and the possibility of creating two tone pieces. Its base can be lacquered from a choice of some 16 colours.

We know that so many options can sometimes be overwhelming, so our design team has developed some combinations to facilitate the selection of materials. In this case, we have chosen the Silvertex fabric for the Tea chair, for its easy maintenance and cleaning.
Download a brochure with our inspirational proposals here, and remember, they are just an example of the wide possibilities offered by this practical home office pair. We hope that you'll find one for your space.
CLASSIC VIBES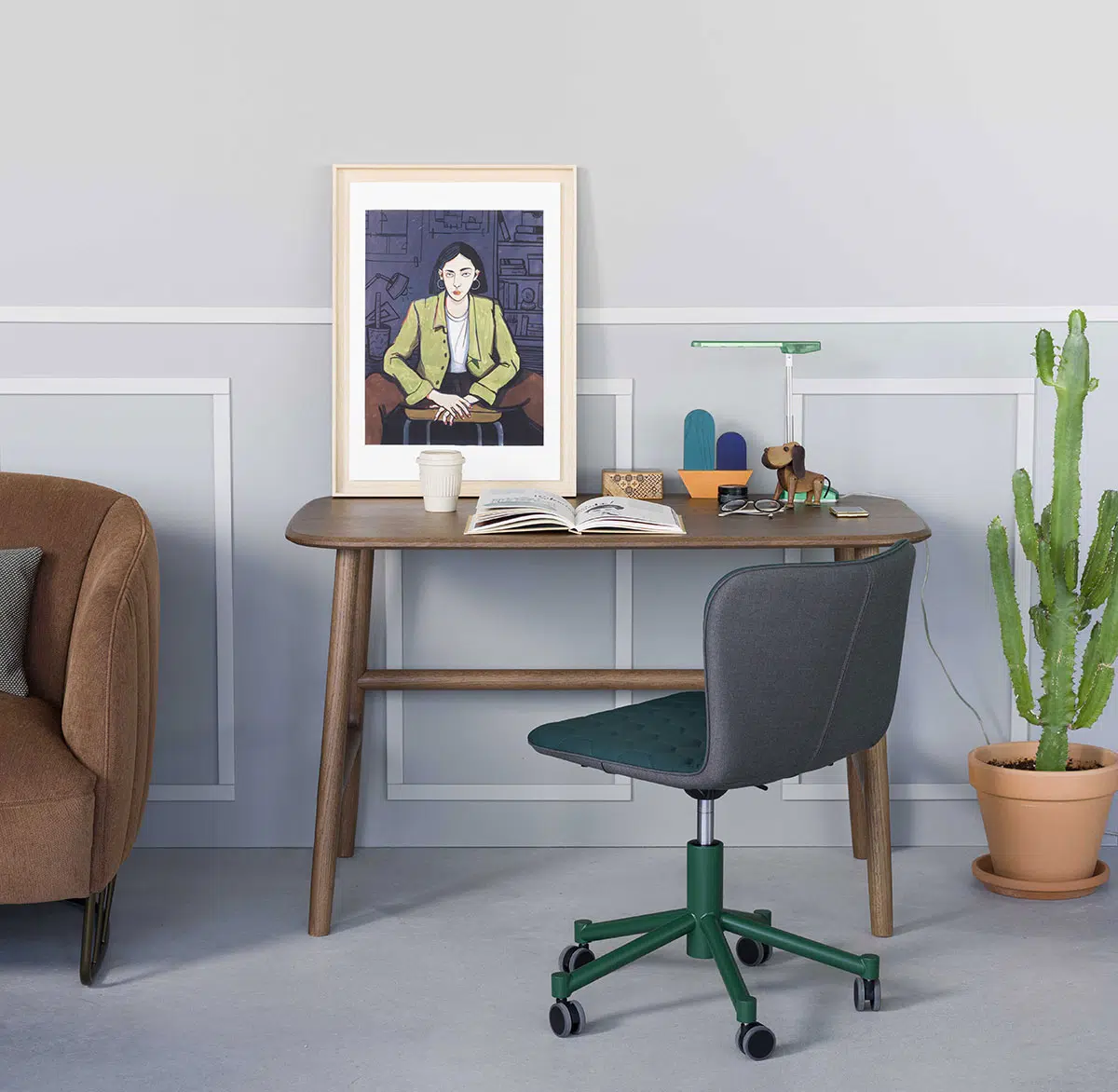 A simple, neat and elegant corner in nature's own palette, with walnut colour for the Nudo desk or forest green for the Tea chair. The organic shapes of both designs are subtly integrated into this contemporary yet classically-inspired setting.
The soft palette and noble materials are ideal for creating calm and timeless environments, a perfect place to think and create. Details such as a picture or small decorative elements provide a fresh, casual touch, making the corner personal and attractive.
CHIC AND NEUTRAL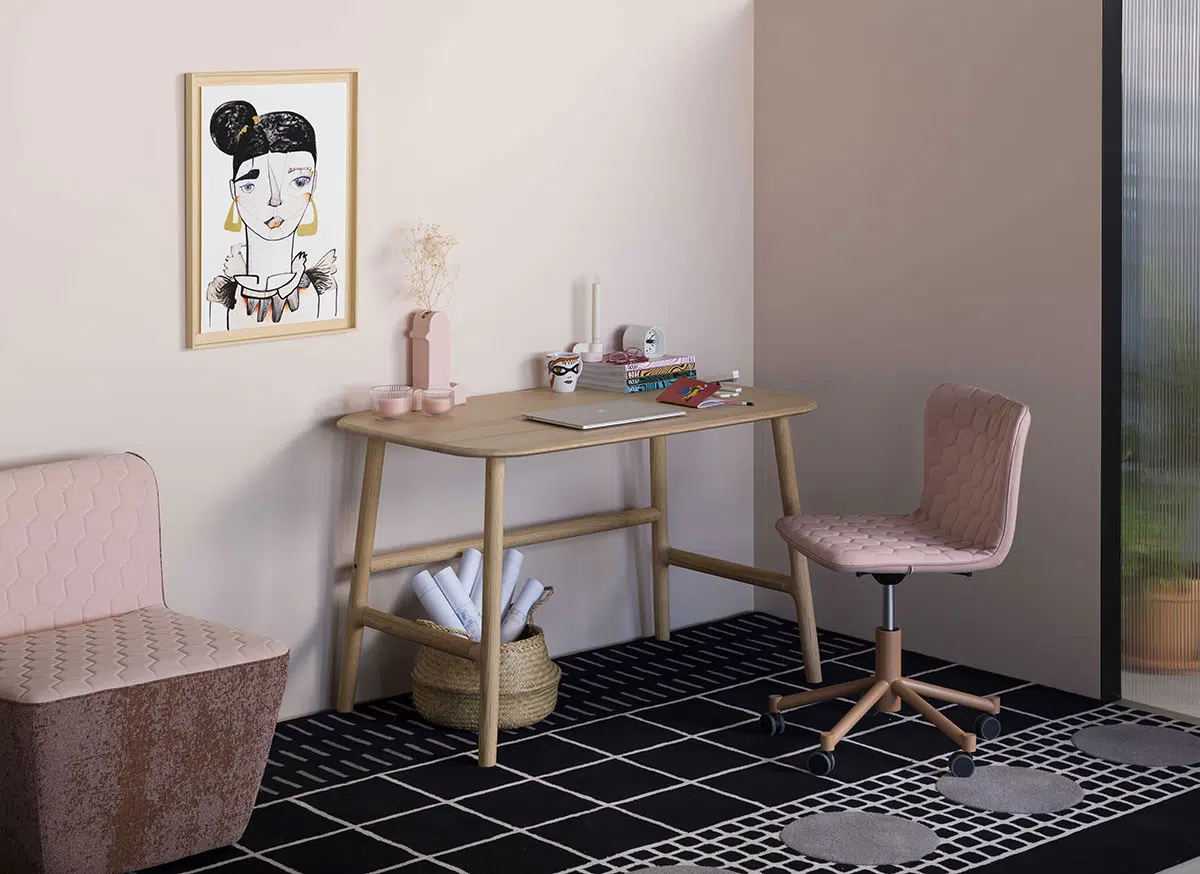 Dusty shades like pink create calm ambiences, as this soft palette and its almost monochromatic application bring light and freshness, ideal for a small home office.
The natural finish of the Nudo desk reinforces the clean and delicate aesthetic of this space, while the hexagonal quilting of the Tea chair and armchair adds texture and dynamism to this cosy and intimate working corner. Decorative elements add a playful touch, reinforcing the idea that pink doesn't have to be cheesy.
ARTISTIC AND CREATIVE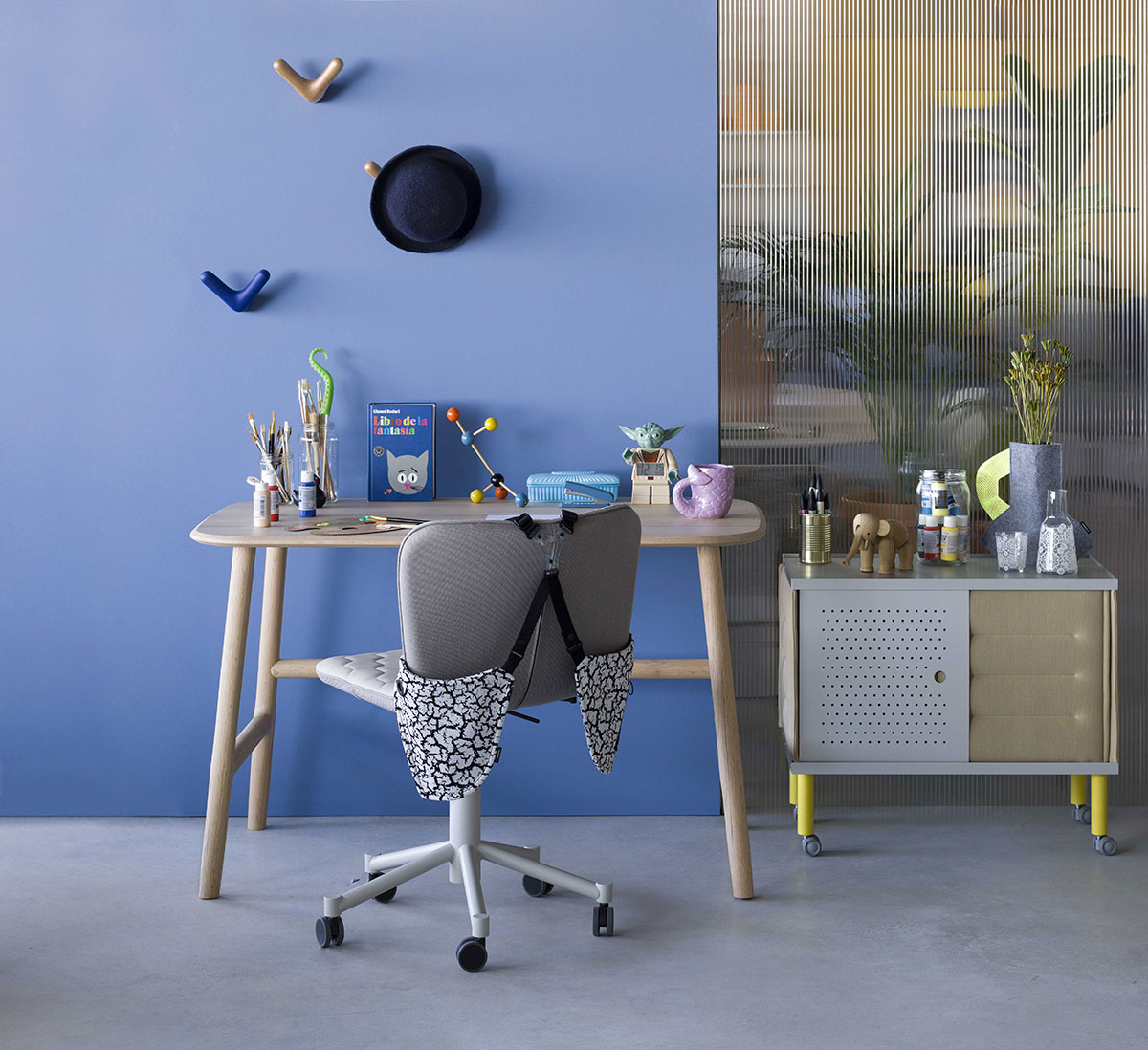 Home office hues don't always have to be neutral. Colour applied to a wall or in small details can inject high doses of energy to motivate and inspire. In this space, neutral elements such as the natural finish of the Nudo table and the grey upholstery of the Tea chair are perfectly integrated into a fresh, fun and dynamic interior design.
In addition, to make good use of the space, the walls can turn into work boards to organize things, as well as a focal point in which to display personal objects. The small Estante cabinet is an ideal piece to store items, bringing joy and order to the chaos of the most creative studies.
INDUSTRIAL LOFT
The open-plan loft-type homes use rational layouts to maximise the feeling of space. Industrial finishes can add an eclectic note in which textures and materials play a fundamental role.
In this case, the homely and comfortable touch is provided by upholstered furniture such as the Nap sofa-bed and the Tea chair, thanks to their colours and textures. The warmth of the wooden Nudo table in a walnut colour creates a delicate contrast with the concrete floor or the steel walls.
Creating a small jungle with indoor plants on the desk area adds a fresh, natural touch and improves air quality.
RURAL HOME OFFICE WITH A VIEW
Although old rural houses did not contemplate a dedicated space for a small office, any corner can be a good place to install a small, flexible home office with a view of the countryside.
These simple homes do not need great artifice to create cosy, natural and vital spaces. The neutral floor and wall tones allow subtle touches of colour, as does the Tea chair with a two-tone upholstery that combines earthy hues.
The mixture of original architectural elements with other more contemporary ones offers interesting results in decorative terms. If you want to see more images of this rural house, you can read this post.
And when we finish the working day? The simplicity and elegance of Nudo also makes it perfect as a small table for the entrance hall, a dressing table or side table, depending on where it is placed. The sophisticated design of the Tea chair makes a fantastic extra dining chair.