The new collection's seven key products …
During this year's Salone del Mobile de Milan, we launched the Enigma Collection – an ample variety of new products enveloped in an alluring presentation. The stand's mise-en-scène provided the vison of a sanctuary from which we can view a deranged 4th dimension.
Just like one of Edward Hopper's paintings, the window forms the principal architectural element. In each room we find disconcerting vistas of turbulent events outside that are wilder than the wildest fantasies of the voyeur in Alfred Hitchcock's Rear Window.
The artist Sammy Slabbinck is responsible for this dramatic effect. His bizarre collages, specially commissioned for the stand, are displayed as lenticular pictures to create two frame animations. The world's powerful, corrupt elite are depicted meeting their satirical comeuppance. Their complex nature contrasts with the simple geometry of the stand.
It would seem that the inhabitants of our enigmatic house have been hoarding food. Quirky Spanish cans and packaged rice formed an integral part of the stand's décor. But the real stars of the show where no less than seven new products:
1) Deep by Rafa García. A modular sofa that goes back to basics to provide maximum comfort in a compact space.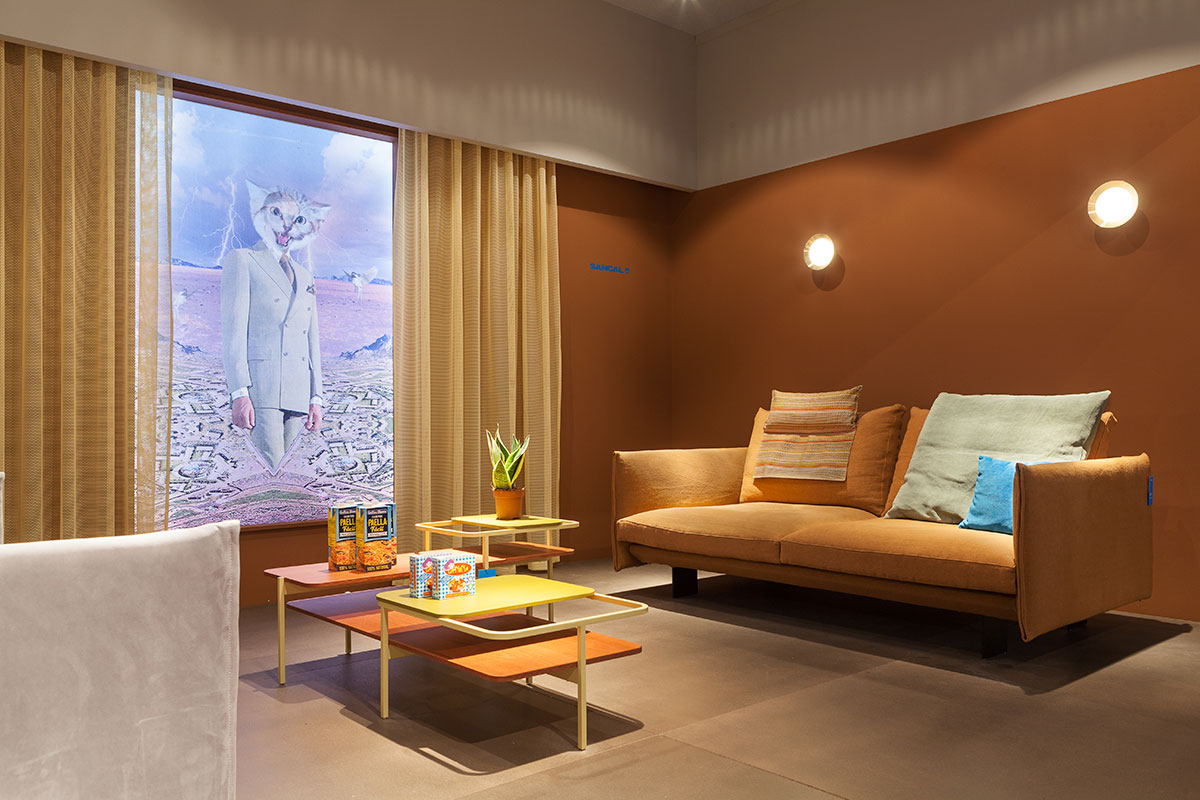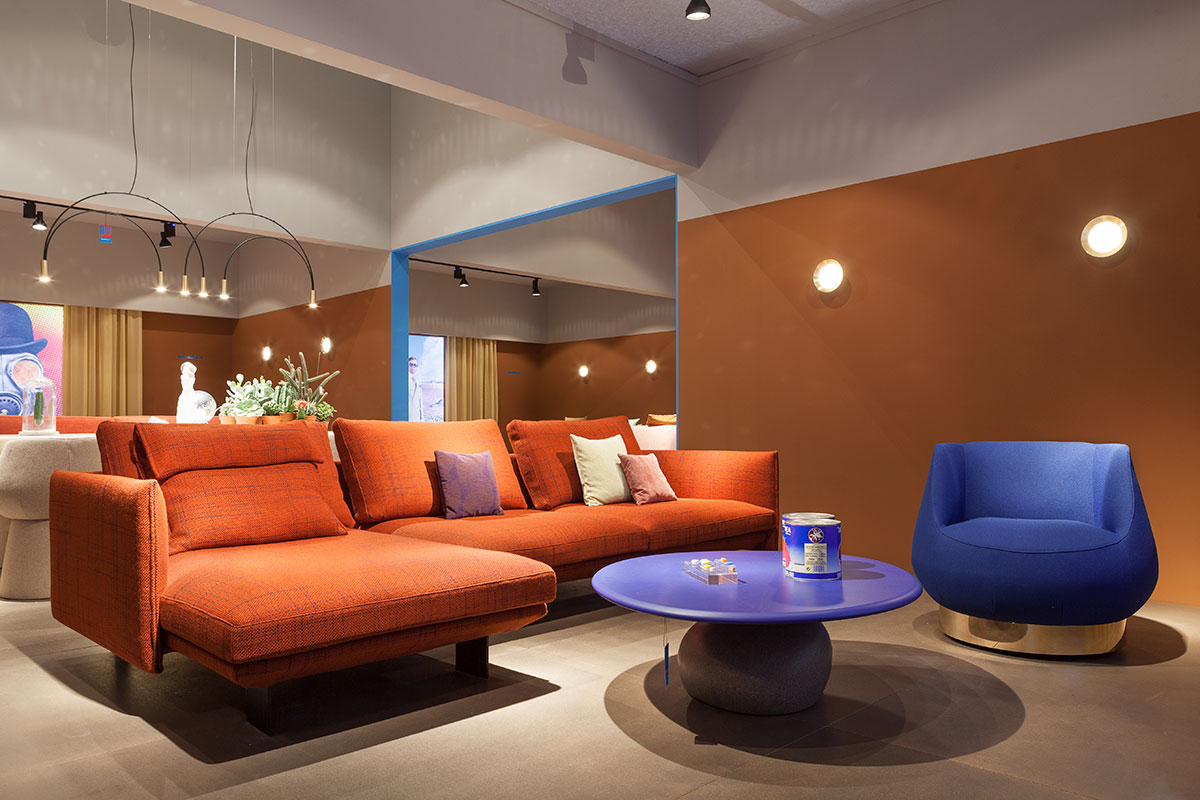 2) Magnum by Estudihac. A range of upholstered chairs inspired by the cognac glasses used in London's exclusive gentlemen's clubs.
3) La Isla by Note. A bench for projects that turns "non-places" into a destination for weary travelers.
4) Beetle by Mut. Upholstered works of art that sculpt soundscapes by dampening noise.
5) Tortuga Mini by Nadadora. The theory of evolution started with the Galapagos Tortoise. Our own Tortuga, Spanish for tortoise, has undergone a mutation of its own with two new mini versions of the lounge chairs.
6) Estante by Juan Ibañez. Fabric, metal and wood. A smorgasbord of textures for a modular, sound-absorbent cabinet.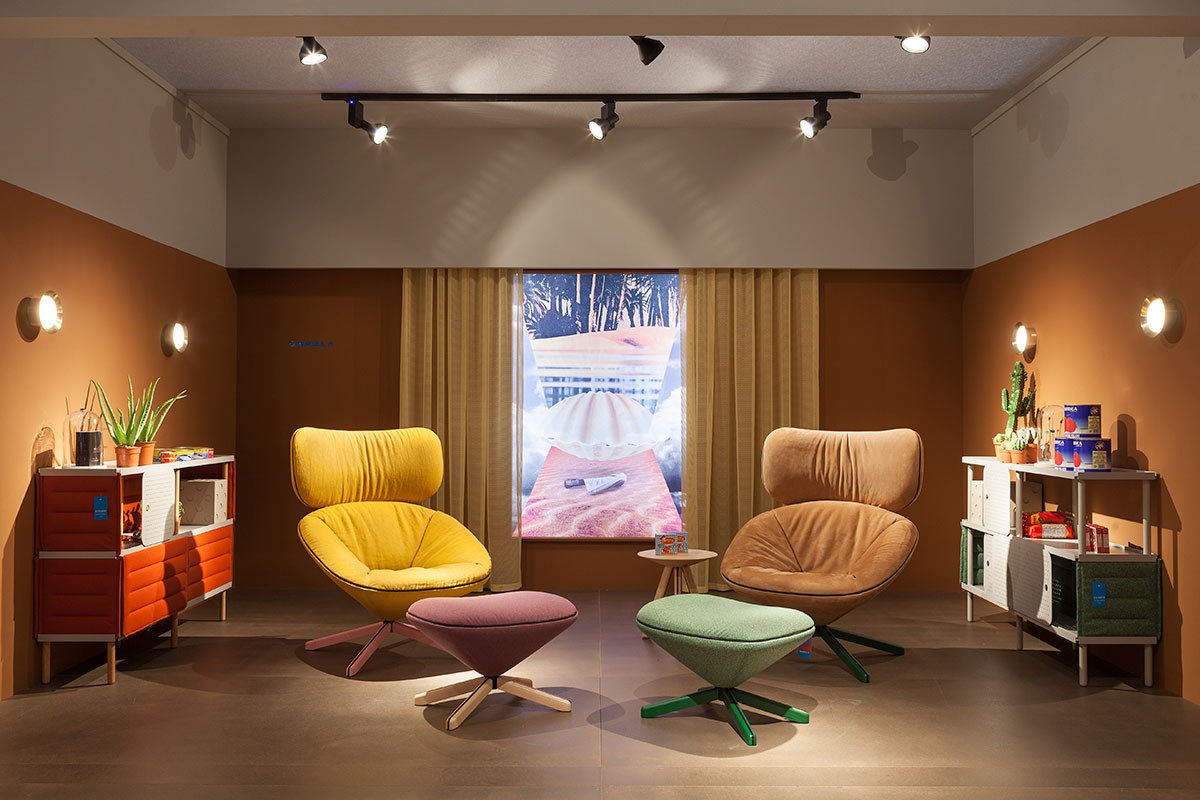 7) Pion Petra by Ionna Vautrin. Building on the success of the Pion range of tables, we have widened the range of finishes available. Ionna has used natural stone as a new material and inspiration for two lacquer colours.